It's almost to the end of 2014 and New Years means New Years Eve party and that means spending cash on buying presents. And like me, I bet you're wondering on how to buy cheap presents under £20. Well look no further because here are my top 10.
The gifts I'm about to show are in no particular order. Half of them shown is at well known retailers so you don't have to go through the hassle of ordering online just in case it doesn't arrive at the time you had expected.
10.
Toni&Guy: Definition Straightener
This was a big shock to me as I love Toni&Guy because their products always wow me but their prices do not! However, when I was searching online I discovered this and I'm amazed. So this gift is for girls (obviously) aged between 13 and over. The Slim Definer is 15mm ultra slim which heats up to 200 degrees centigrade (It's not as high because my Remington straightener which I LOVE and have had for more than 4 years, heats up to 230 and GHD's go up to 210). The manufacturer (Toni&Guy) also has a 2 year warrantee so if the gift receiver doesn't like it or it breaks or any thing else, you can return it!. On Toni&Guy's
website
, it is priced at £29.99 but after some research you can get this at
Superdrug
for £20 or
John Lewis
and
Argos
at £19.99 if you're looking into saving that extra penny.
9.
Police Original: EDT Gift Set 100ml
It's a bit obvious that perfume is an all time favourite gift no matter what occasion. Police has always been a favourite brand of one of my male relatives as he had Police belts, Sunglasses, Jeans you name it. And I suggest this is for males aged 15+ as it has a Jasmine, Geranium, Sandalwood, Peppermint and other scents which give of a classic aromatic smell, making the gift receiver feel masculine, modern and powerful. The gift set contains a 100ml EDT perfume alongside an aromatic 100ml shower gel.
Price you may ask? It's £29.99 on
Very
which is slightly different but in
The Perfume Shop
it's £14.95! Giving you a whopping saving off £15.04, so realistically you could buy two.
8.
Lush: Splash Gift Box
Lush is an amazing shop and as all the products sold their are handmade and organic which haven't been tested on animals and the smell of their products are just captivating, especially their bath bombs which are beautifully designed which made me choose it for this. This gift box contains (see below the gift box) a Sea Vegetable soap, Seanik Shampoo Bar, Whoosh Shower jelly and Ocean salt face and body scrub. May I say that the Ocean Salt is highly praised for doing wonders for your skin (
see here
) and the Whoosh Shower Jelly (
Demo video
) as well as the Seanik Shampoo Bar (
Review
) and the Sea Vegetable Soap (
Review
) is considered 'The Holy Grail' for some, yes literally. Suitable for anyone wanting that special treatment at home! You can get this from Lush's website or in store (
here
) for £19.50.
Inside the Splash gift set
7.
Water Dancing Speakers
These amazing speakers are something you've never even seen before, maybe you have, maybe you haven't but it doesn't deny the fact that this is awesome! When any music plays, the speakers explode (not literally) with jets of waters illuminated by bright multi-coloured LEDs, creating a unique water show. The water does actually bounce to the music which would be admired by any guest visiting the gift reciever's house. It's so good, you probably might buy it for yourself! (
review
) This is from
RED5
for £19.95 reduced from £39.95! Suitable for anyone any age.
6.
EOS- Assorted lip balms pack of 3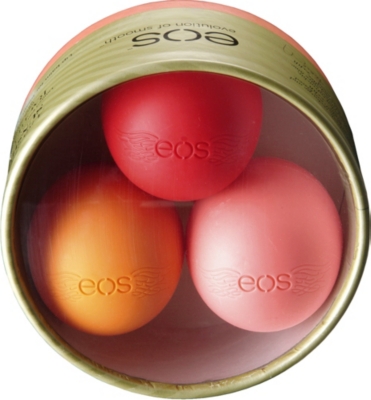 This lip balm is well known amongst celebrities like Miley Cyrus, Harry Styles, Zayn Malik, Kim Kardashian, Kendall Jenner, Kylie Jenner, Kesha and many more. So why not make your friend/family/relative feel like a celebrity with this 95% organic, 100% natural and Paraben and petrolatum free lip balm? It's packed with antioxidant-rich vitamin E, soothing shea butter and jojoba oil, keeping your lips moist, soft and sensationally smooth. Available at Selfridges (
here
) for £19.50 in beautiful box as well which you can store other makeup goods after use.
5.
James Bond 007 Gold EDT 50ml Gift set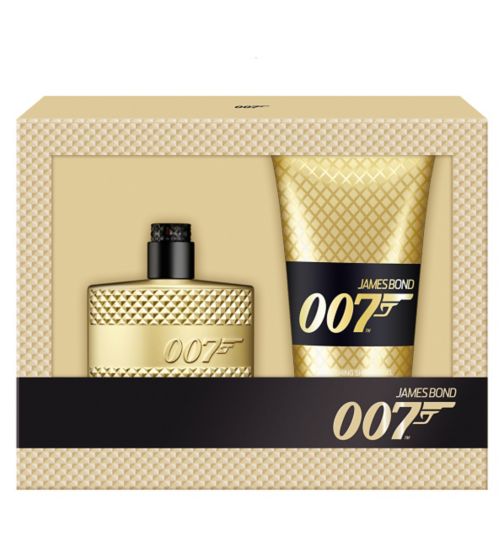 James Bond is an all time favourite and the new perfume smells exquisite as well. The perfume is 50ml so it's smaller but for the price it isn't bad at all. The gift set includes the EDT and a 150ml shower gel for men or young boys who want to smell of the British legend. The smell contains Apple, Lavender, Sandalwood and more scents which you can see on the website. Currently Boots has this on an offer for £16.66 (
here
) and I'm unaware when this will end so
here
is a link to The Perfume Shop which is priced at £16.99.
4.
Katrina Real Sterling Silver Diamond Flash Cubic Zirconia Necklace & Earring Set (a mouthful!)
Finally! A beautiful
real
gift set without breaking the budget! This beautiful earring and necklace piece is suitable for any women aged 13+. This jewellery set is a timeless classic with real sterling silver and Cubic Zirconia with a chain length of 18" (45cm) so it's easier to view. This beauty is from Warren James (
here
) for £19.45 reduced from £45.50! Giving you a massive saving of £26.05!
3.
Baylis & Harding

Black Pepper & Ginseng Tray Set
A luxurious gift set for him aged 13+. Treat him to 300ml of Hair & Body Wash, 150g Boxed Soap, 130ml Aftershave Balm & 130ml Shower Gel all in their Classic Black Pepper & Ginseng fragrance - a masculine scent with notes of natural pine and warm cedar wood. But that`s not all, also included is a stylish black Phone & Accessories pouch ideal for anyone. This is from House of Fraser (
here
) [NOTE: This company also sells gift set for women as well which is available in nearly every department store] for £12.50 reduced from £25.00. Awesome!
2.
Urban Apothecary: Mint Crème Luxury Candle
I seriously have an obsession with candles. They're so beautiful and I immediately feel so calm and tranquil so why not gift this beautiful candle to someone who shares the same feelings as me? This candle comes in a glass container which you can reuse for a table centrepiece or store sweets also the box it comes in makes a perfect storage for lipsticks or nail varnishes.
This candle is available at TKMAXX (
here
) for £13.00, Perfect for anyone. May I say, this is an absolute bargain because it's RRP is £30.00. I'm not surprised.
1.
Nothing (I'm not joking)
Seriously it's nothing. This gift is deal for the person who always answers "I want nothing!" And as a loyal friend or whatever, you have to respect their decision so why not get it? This is perfect for a person who wants nothing and who has everything. This is pure genius! However you have to pay for Nothing which is £6.99 at I Want One Of Those (
IWOOT
). If you're a prankster then this gift is perfect for you.
(Photo credit: Google and the shops/brands shown)